The Strength of SHOREKI
~Business Development Integrated throughout Upstream to Downstream in the Road Pavement Business~
There are a large number of asphalt-related companies, such as companies refining and selling asphalt, selling asphalt mixtures, and using asphalt mixtures for road construction.
Among them, SHOREKI is a very unique company in Japan, engaged in import and distribution of straight asphalt, producing and selling asphalt-related products and construction work. Our business model, from upstream to downstream, enables us to respond to customer needs quickly as well as to meet customer needs precisely.
Business
Material Procurement / Manufacturing and Sales
Pavement Construction / Research and Development
By strengthening the "Inter-business" that links different businesses to each other, we worked to raise the level of business activities, revitalizing, and efficiency improvement.
That is the strength of SHOREKI.
SHOREKI, has business of straight asphalt for paving as the core, has know-how on manufacturing and selling secondary products such as modified asphalt, asphalt mixture, asphalt emulsion, etc., and also on road construction and unique distribution system as well as technical support and quality control support. SHOREKI will promptly respond to your needs as a total coordinator by making full use of these,.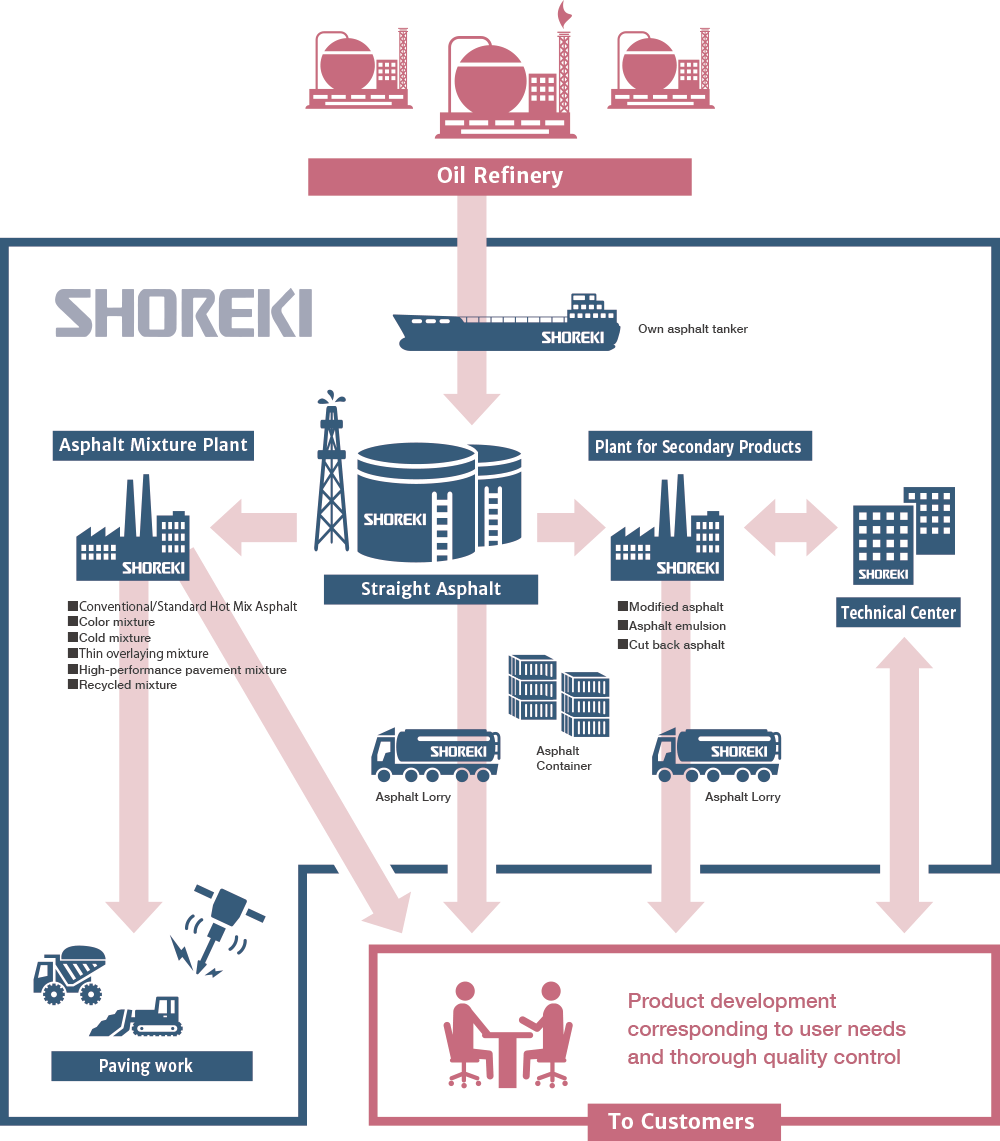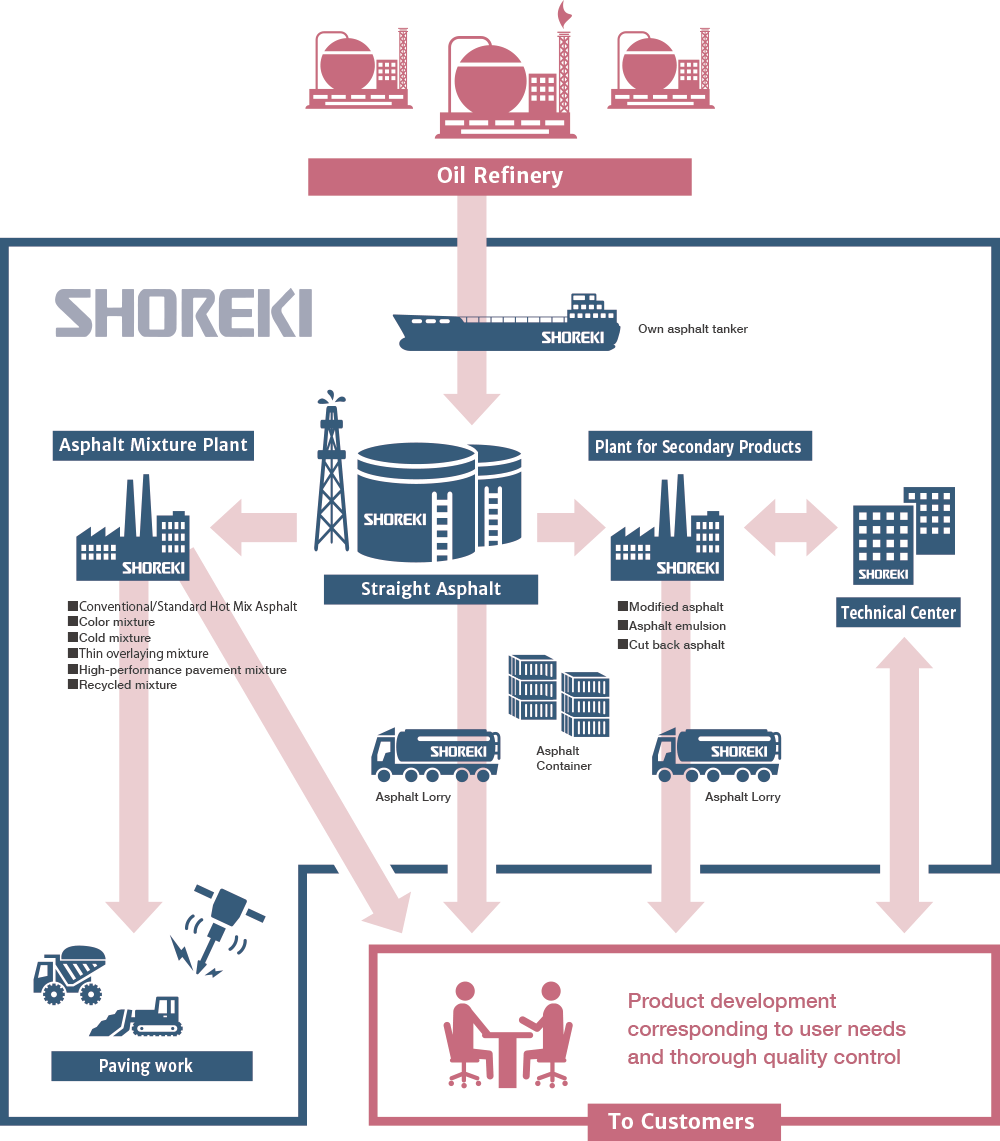 ● Trading Company Function

We procure straight asphalt from within Japan and abroad, and store it at the asphalt terminals throughout the country. Straight asphalt is provided to users after strict quality check.

● Manufacturer Function

We offer products using straight asphalt into secondary products such as modified asphalt or asphalt emulsion. We also offer development of new products to meet the needs of our customers.

● Construction Company

We use our products for road pavement work and check for product quality. We also collect necessary information on site and provide feedback to the development and manufacturing departments.
Customer-Oriented Approach by SHOREKI
We contribute to improving the convenience of the local community by improving, developing, and steadily supplying high quality and low-cost asphalt pavement materials for roads, which are also important to the infrastructure.
 (Based on our ISO basic policy)
Customer Support
"The strength of SHOREKI is that we can make a precise and prompt response to customer requests by placing offices all over the country. In major manufacturers, divisions such as manufacturing and sales work separately, but in SHOREKI, divisions such as sales, manufacturing, distribution and R&D work as one unit for responding to customer requests from all aspects, such as quality, price and delivery. So we can promptly deliver products and services that customers could be truly satisfied with."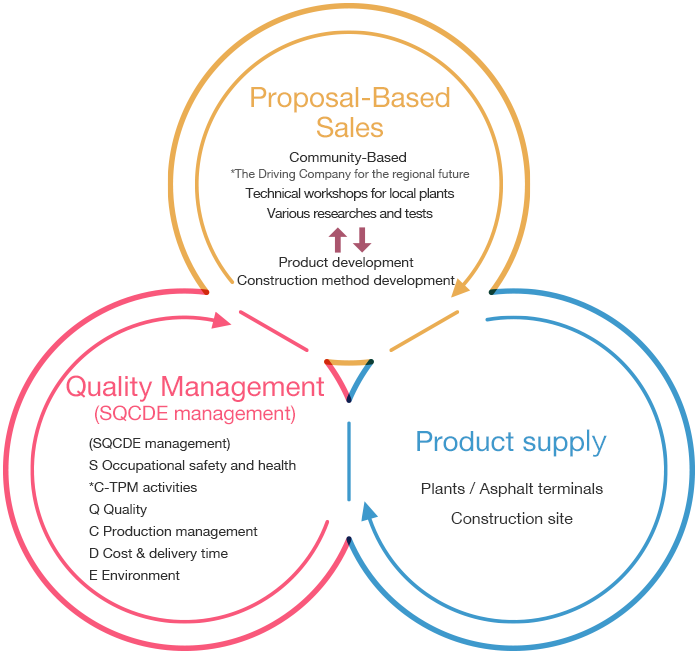 C-TPM (Compact-Total Production Maintenance) Activity
C-TPM activities are programs aimed at improving productivity, human resource development, and health and safety based on 5 principles (organization, arrangement, cleaning, maintaining cleanliness, and training) for improvement activities for small and medium-sized plants.